HUNTER: THE AGE OF MAGIC
A monthly series published by Vertigo, written by me and drawn by Richard Case, Chris McLoughlin, and others. It lasted 25 issues, from 2001 - 2003.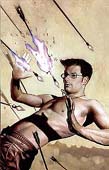 The main character, Tim Hunter, first appeared in the 1990 DC miniseries The Books of Magic, written by Neil Gaiman with art by John Bolton, Scott Hampton, Charles Vess and Paul Johnson. He then starred in a monthly title published by Vertigo, also called The Books of Magic, which ran for 75 issues, written by John Ney Rieber and then Peter Gross (who also drew most of it).

When Richard and I took over, we started with a 5-issue mini-series, The Names of Magic, which has since been collected as a trade paperback (see here).
Cover art shown is by John Bolton. Tim Hunter, the Names of Magic, the Books of Magic and Hunter: the Age of Magic are © Copyright & TM 2001 DC Comics.
© Copyright 2001 Dylan Horrocks