A selection of political cartoons by Dylan Horrocks.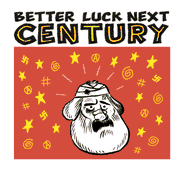 BETTER LUCK NEXT CENTURY (2001, Top Shelf) - 48 pages, 19cm X 13.7cm. US$7.00
Introduction by Chris Trotter (editor, NZ Political Review)
'Everybody can love a comic artist. Not everybody can love a political cartoonist. If you want to be loved by everybody, don't become a political cartoonist.'
Syd Hoff.
Better Luck Next Century is my contribution to Top Shelf's Small Batch series: deluxe mini-comics, with screenprinted 3-colour card covers and black & white interiors. Other titles in the series include work by Craig Thompson and Josh Simmonds. These booklets are not sold through the usual retail channels, but are available from Top Shelf at conventions and from their website. Better Luck Next Century can also be bought directly from me, from this website's Shop or if you bump into me at a convention or a signing.
The cartoons in this book were drawn for a variety of magazines, pamphlets, posters and even t-shirts. Many first appeared in the New Zealand Political Review, a bi-monthly magazine of (mostly left-wing) comment and analysis edited by Chris Trotter. Here, the cartoons come with extensive explanatory notes, explaining the topical and local references. Hopefully, though, in this age of globalisation, many of the issues adressed in these cartoons will be as familiar to readers in Washington, DC as in Wellington, NZ.
For some examples of the kind of cartoons included in Better Luck Next Century, visit the politics page of the pictures section.

Note that this book is not a collection of Milo's Week, although it does include a few examples of that strip which I drew for the NZ Listener. That will have to await the next rainy day...
© Copyright 2001 Dylan Horrocks